What is Home Care?
Home Care (also known as in-home care, community care, home help, home support and in-home nursing care) is the umbrella term for a range of services that allow people to remain living independently in their own homes. Many elderly Australian's take advantage of these services as an alternative to moving into traditional residential aged care homes.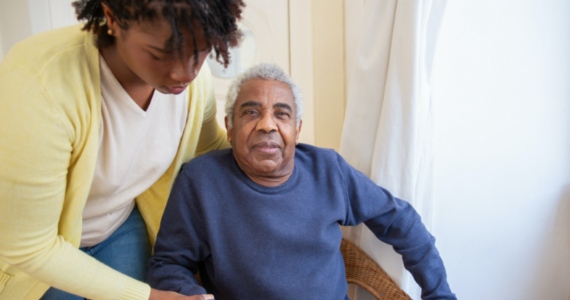 Home care services mean that you or your loved one can stay connected with family and friends and stay involved in the local community.
Home Care services can assist with a wide range of tasks. The most common include dressing, bathing, meal preparation, cleaning & laundry, gardening & basic home maintenance, transport, nursing and allied health & therapy services.
If something you need assistance with is not listed, you don't need to worry. Just talk to your preferred home care provider and they'll more than likely work with you to find a suitable solution.
Most Australian's access home care services through a Home Care Package.
What is a Home Care Package?
A Home Care Package is a coordinated and flexible package that allows individuals to remain living in the comfort of their own homes. Each Home Care Package is tailored in order to cater for a variety of care needs. 
There are currently four levels of Home Care Packages:
Home Care Packages receive funding from the federal Government, however if you are able to do so, you may be asked to make a contribution towards your Home Care Package costs.
Do I have to pay for a Home Care Package?
You may be eligible to receive funding from the Federal Government to help pay for a Home Care Package, however you may need to make a contribution. This will be determined by a Centrelink assessment.
Home Care Packages are now delivered on a Consumer Directed Care (CDC) basis, which means that you have more choice regarding how your allocated home care funds are spent. You will also be able to choose your own Home Care provider.
Click here to find out more about Consumer Directed Care.
If you are not eligible to receive a Home Care Package, you can still access the full range of home care services independently and at your own expense.
What services can I access with a Home Care Package?
Some common services that can be accessed with a Home Care Package include, but are not limited to:
Personal Care: showering, dressing, shopping & mobility

Domestic Assistance: cleaning, laundry, washing & vacuuming

Assistance with meal preparation & eating

Medication management

Nursing care

Transportation

Allied health services
What services are excluded from a Home Care Package?
Products and services that are excluded from the Home Care Packages program include but are not limited to:
Food items

Payment for permanent accommodation (including assistance with mortgage payments & rent)

Travel and accommodation for holidays

Home modifications that are not related to the consumer's care needs

Club memberships

Tickets to sporting/music events

Gambling
Do you need a home care provider?
The CareSide can help you with the best value home care in Australia delivering more hours of quality care for both fully managed and self-managed home care packages.
The CareSide team is ready to help – call today for a friendly chat!
Call 1300 414 219
How much is a Level 4 Home Care Package?
Where can I access Home Care Packages?
Home Care Packages are available Australia-wide. To begin your search for home care providers in your area, simply click on your state below:
How can I access a Home Care Package?
There are five simple steps you can follow to determine your eligibility and access a Home Care Package:
Check your eligibility by undergoing an assessment by an Aged Care Assessment Team. Call My Aged Care on 1800 200 422 to register & organise an Aged Care Assessment.

Find a suitable Home Care Package provider

Work out the costs

Accept a Home Care Package

Begin your home care services
Click here to find out more about the steps involved in accessing a Home Care Package.
How do I find out if I am eligible to receive a Home Care Package?
To find out if you are eligible, you will need what is called an aged care assessment. They'll discuss your current situation and determine if a Home Care Package would be suitable and at what level. The assessments are free.
Call My Aged Care on 1800 200 422 to register & organise an Aged Care Assessment.
If you find that you are not eligible to receive a Home Care Package or you need more than the level you've been allocated, you can pay for additional home care services yourself. All you need to do is contact a home care services provider in your area and they'll assist you in putting together a suitable home care program.
If you are considering moving into an Aged Care facility, you should put an estate plan in place. Call us to discuss further on 07 55 809 489.
Source: This article was originally published on https://agedcareonline.com.au/aged-care-online/understanding-aged-care/your-guide-to-home-care.
Important:
This provides general information and hasn't taken your circumstances into account. It's important to consider your particular circumstances before deciding what's right for you. Although the information is from sources considered reliable, we do not guarantee that it is accurate or complete. You should not rely upon it and should seek qualified advice before making any investment decision. Except where liability under any statute cannot be excluded, we do not accept any liability (whether under contract, tort or otherwise) for any resulting loss or damage of the reader or any other person.
Any information provided by the author detailed above is separate and external to our business and our Licensee. Neither our business nor our Licensee takes any responsibility for any action or any service provided by the author. Any links have been provided with permission for information purposes only and will take you to external websites, which are not connected to our company in any way. Note: Our company does not endorse and is not responsible for the accuracy of the contents/information contained within the linked site(s) accessible from this page.