Australians are leaving capital cities in droves in a phenomenon being referred to as 'The Great Relocation'. However, there's a lot to consider beyond the obvious appeal of waking up to the laughter of kookaburras or enjoying a long walk on the beach.
The terms 'sea change' or 'tree change' have been around for a while to describe those who decide to make a move from the city or suburbs to a more rural lifestyle.
The pandemic has been responsible for heightening this trend due to frustration with lockdowns and people spending more time at home and in their local area than usual, leading them to reassess their lifestyles and where they would prefer to live. Of course, greater work flexibility as measures were put in place to manage the pandemic, have also been a driving force in the exodus to the regions.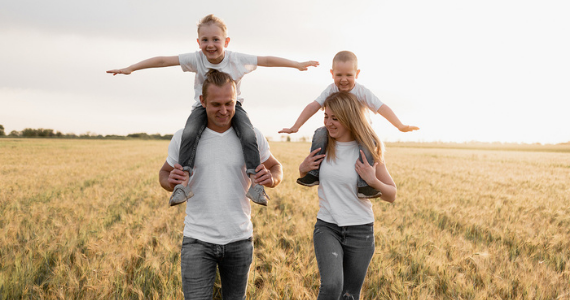 Moving to the regions
There is a long-held belief that the sea change/tree change phenomenon is largely confined to baby boomers or those at or nearing retirement, which is incorrect – as early as the mid-2000s, nearly 80% of people changing from city to regional areas have been under the age of 50.i
Geographically Sydney and Melbourne recorded large net losses of people through 2020 and early 2021, regions within an hour of those major centres recorded the strongest growth.ii However, statistics show that the population grew in all major regional cities, reversing a 20-year decline in regional Australia's share of national population growth.iii
The attraction of lifestyle
The reasons for many Australians turning their backs on the big smoke are predominately lifestyle. Those making the break are attracted by the lure of a slower, less hectic life, proximity to the great outdoors, a sense of community made possible by life in a smaller town and last but by no means least, cheaper property prices than those in the big cities.
Things to consider
If the idea of a move to the sea or a rural town is increasingly attractive, it's important to also consider the potential challenges you may face. For those leaving friends and family behind, there is often a sense of isolation in being far from those you care about, and it can take some time to make new friends and adjust to life in a new community.
It's also important to consider how the infrastructure in rural areas differs from where you are moving from. If you have children, will you have access to good schools close by? If you are looking to retire, will you have access to the necessary medical facilities as you age? It may also be a good idea to consider local economic forces and job opportunities.
Don't be hasty!
A knee-jerk decision brought on by a holiday stay in the area under idyllic summer conditions, can be fraught with danger. It's a good idea to rent in the area or visit regularly over a longer period of time to gauge whether it will be the right fit. If you get it wrong, it can be a stressful and expensive exercise.
According to analyst Mark McCrindle, a sea change or tree change doesn't work out for one in five people who attempt it, which reinforces the need to do your homework.iv "People make a decision because they think it's going to work for them financially or it's going to be less pressure, less commute time and a nicer lifestyle," McCrindle says. "But sometimes they find some of these regional areas are too small or too quiet."
The main thing is to not be swept away by emotion, think about what you value and what you are looking for, and weigh up the pros and cons so that if you make the move it will result in the positive change you are seeking.
If you're considering a sea-change or tree-change and would like to discuss your finance options, call us on 07 55 809 489.
i, ii, iv https://www.corelogic.com.au/resources/tree-change-sea-change-what-you-need-know-generate-leads
iii https://www.abc.net.au/news/2021-11-18/migration-to-regional-australia-at-record-levels/100628278
Important note: This provides general information and hasn't taken your circumstances into account.  It's important to consider your particular circumstances before deciding what's right for you. Although the information is from sources considered reliable, we do not guarantee that it is accurate or complete. You should not rely upon it and should seek qualified advice before making any investment decision. Except where liability under any statute cannot be excluded, we do not accept any liability (whether under contract, tort or otherwise) for any resulting loss or damage of the reader or any other person.  Past performance is not a reliable guide to future returns. Important Any information provided by the author detailed above is separate and external to our business and our Licensee. Neither our business nor our Licensee takes any responsibility for any action or any service provided by the author. Any links have been provided with permission for information purposes only and will take you to external websites, which are not connected to our company in any way. Note: Our company does not endorse and is not responsible for the accuracy of the contents/information contained within the linked site(s) accessible from this page.