Buying and selling a home at the same time – it's the ultimate chicken and egg scenario. At the best of times, it is a juggling act, but in the current market where prices are rising, listing numbers are low and days on market are shrinking the "which comes first?" dilemma is real.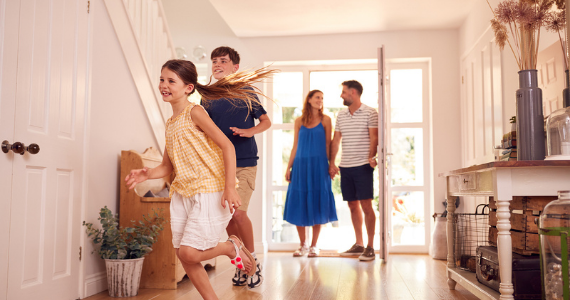 Traditionally, homeowners tend to sell first so they know how much cash they have to play with, then go and buy their next home. In fast-moving markets, however, some upgraders and downsizers choose to snag a new property first, before sticking the sold sign out the front of their current one.
Whichever path you take, there are certain steps that can help tip the balancing act in your favour.
Read the current market
By studying the market, both where you're selling and buying into, you can form a better understanding of how to navigate the road ahead.
A sellers' market
Conventional real estate wisdom says in a rising market it makes sense to buy first, sell second. The simple reasoning is you can secure your purchase at one price and, with a little luck, sell your current home for a stronger price as values continue to increase.
If you sell before buying in a rising market you'll be cashed up, but the pressure will be on to purchase with settlement day looming, so you don't end up paying two mortgages.
A buyers' market
In a cooling market the general consensus is to sell first, buy later. Not only will you avoid paying two home loans, but you also reduce any pressure to accept a low-ball offer on your original home. The only hiccup is if you find a buyer before a new home you might need an in-between rental.
Work with your team
Lean on the expertise of those around you to time the transactions in your favour. When choosing a selling agent and conveyancing lawyer, don't let their fees be the only part of the conversation. If they know you're seeking a replacement property, then they'll be prepared.
Your agent and potentially the selling agent of your future home can bring both parties together in a way that works for everyone, alternatively consider engaging a buyer's agent to broker the deal for you.
Stretch out settlement
In the current climate some settlements are extending beyond 12 months. Such extensions can be used to varying success, but it all comes down to the willingness of both parties.
If selling first, your buyer would need to accept an extended settlement as a condition of sale. If buying first, you have the option of making an offer subject to an extended settlement which may (or may not) work for the vendor.
Buy under one condition
Making an offer "subject to completion of sale" is another way to balance the transition. It means, as a buyer, you have added a caveat into the contract of sale saying your offer is only valid once you've sold your home. This can take a lot of negotiation from the outset and when buying in a hot seller's market, the ball isn't really in your court to make such demands.
Seal the deal with a deposit
Deposit guarantees can help buyers fund a purchase before selling their current home. A financial agreement that can be used in place of a cash down payment, a deposit guarantee is a promise on paper that the buyer will pay the full deposit on an agreed date. Before considering a deposit guarantee, do your homework. They may not be right for every situation and do accrue fees.
Consider a bridging loan
Another way to straddle the gap is to obtain a bridging loan. Such loans are often interest-only, albeit usually at a higher rate than a standard home loan and are taken out on top of an existing mortgage. To qualify for a bridging loan, applicants typically need a significant amount of equity in their property, we can crunch the numbers to assess whether a bridging loan will work for you.
Although the idea of a second mortgage might sound scary, it could be the best option if you consider the costs of potentially moving into a temporary rental, two moving days and runaway property prices. Ultimately, it could also take the pressure off accepting any offer just to offload your old home.
If you are trying to navigate the path between selling and buying, reach out on 07 55 809 489 and we can discuss the most suitable move for you.