Australia's superannuation system is based on individual accounts, with men and women treated equally. But that's where equality ends. It's a simple fact that women generally retire with much less super than men.
The latest figures show women aged 60-64 have an average super balance of $289,179, almost 25 per cent less than men the same age (average balance $359,870).i
The reasons for this are well-known. Women earn less than men on average and are more likely to take time out of the workforce to raise children or care for sick or elderly family members. When they return to the workforce, it's often part-time at least until the children are older.
So, it makes sense for couples to join forces to bridge the super gap as they build their retirement savings. Fortunately, Australia's super system provides incentives to do just that, including tax and estate planning benefits.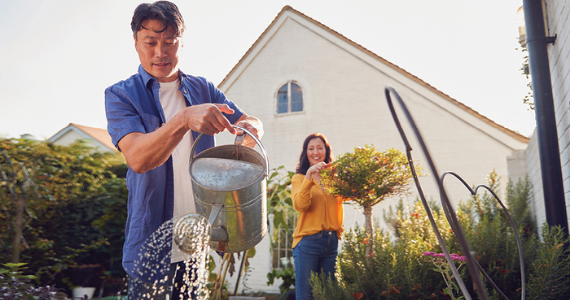 Restoring the balance
There are several ways you can top up your partner's super account to build a bigger retirement nest egg you can share and enjoy together. Where superannuation law is concerned, partner or spouse includes de facto and same-sex couples.
One of the simplest ways to spread the super love is to make a non-concessional (after-tax) contribution into your partner's super account. Other strategies include contribution splitting and a re-contribution strategy.
Spouse contribution
If your partner earns less than $40,000 you may be able to contribute up to $3,000 directly into their super each year and potentially receive a tax offset of up to $540.
The receiving partner must be under age 75, have a total super balance of less than $1.7 million on June 30 in the year before the contribution was made, and not have exceeded their annual non-concessional contributions cap of $110,000.
Also, be aware that you can't receive a tax offset for super contributions you make into your own super account and then split with your spouse.ii
Contributions splitting
This allows one member of a couple to transfer up to 85 per cent of their concessional (before tax) super contributions into their partner's account.
Any contributions you split with your partner will still count towards your annual concessional contributions cap of $27,500. However, in some years you may be able to contribute more if your super balance is less than $500,000 and you have unused contributions caps from previous years under the 'carry-forward' rule.
If your partner is younger than you, splitting your contributions with them may help you qualify for a higher Age Pension. This is because their super won't be assessed for social security purposes if they haven't reached Age Pension age, currently 66 and six months.iii
Re-contribution strategy
Another handy way to equalise super for older couples is for the partner with the higher balance to withdraw funds from their super and re-contribute it to their partner's super account.
This strategy is generally used for couples who are both over age 60. That's because you can only withdraw super once you reach your preservation age (currently age 57) or meet another condition of release such as turning 60 and retiring.
Any super transferred this way will count towards the receiving partner's annual non-concessional contributions cap of $110,000. If they are under 67, they may be able to receive up to $330,000 using the 'bring-forward' rule.
As well as boosting your partner's super, a re-contribution strategy can potentially reduce the tax on death benefits paid to non-dependents when they die. And if they are younger than you, it may also help you qualify for a higher Age Pension. These are complex arrangements so please get in touch before you act.
A joint effort
Sharing super can also help wealthier couples increase the amount they have in the tax-free retirement phase of super.
That's because there's a $1.7 million cap on how much an individual can transfer from accumulation phase into a tax-free super pension account. Any excess must be left in an accumulation account or removed from super, where it will be taxed. But here's the good news – couples can potentially transfer up to $3.4 million into retirement phase, or $1.7 million each.iv
By working as a team and closing the super gap, couples can potentially enjoy a better standard of living in retirement.
If you would like to check your eligibility or find out which strategies may suit your personal circumstance, contact us on 07 55 809 489.
i https://www.superannuation.asn.au/ArticleDocuments/402/2202_Super_stats.pdf.aspx?Embed=Y
ii https://www.ato.gov.au/individuals/income-and-deductions/offsets-and-rebates/super-related-tax-offsets/#Taxoffsetforsupercontributionsonbehalfof
iii https://www.ato.gov.au/Forms/Contributions-splitting/
iv https://www.ato.gov.au/individuals/super/withdrawing-and-using-your-super/transfer-balance-cap/
Important: This provides general information and hasn't taken your circumstances into account.  It's important to consider your particular circumstances before deciding what's right for you. Although the information is from sources considered reliable, we do not guarantee that it is accurate or complete. You should not rely upon it and should seek qualified advice before making any investment decision. Except where liability under any statute cannot be excluded, we do not accept any liability (whether under contract, tort or otherwise) for any resulting loss or damage of the reader or any other person. 
Any information provided by the author detailed above is separate and external to our business. Our business does not take any responsibility for any action or any service provided by the author. Any links have been provided with permission for information purposes only and will take you to external websites, which are not connected to our company in any way. Note: Our company does not endorse and is not responsible for the accuracy of the contents/information contained within the linked site(s) accessible from this page.