Step one: what are your financial pain points?
When you start making plans, chances are you'll both come across financial pain points. In other words, the areas that need some attention and possible alterations. These might include:
post-wedding or honeymoon debts

different earning capacities

different savings goals

different spending habits

disagreements you've had in the past

different ideas about couples bank accounts.
While it's normal to have pain points like these, it's important to recognise them for what they are and work on solutions.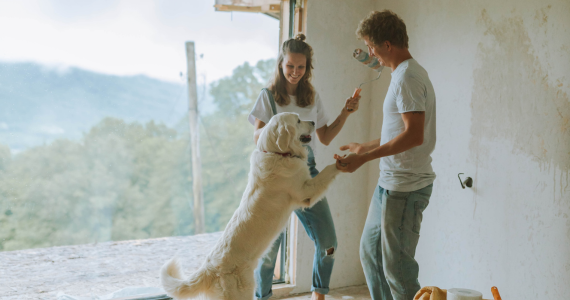 Step two: separate individual goals from couple goals
While you'll both have personal savings goals, it's a good idea to talk about what these are and why they're important to you.
This will help you work on them, without compromising the goals you have as a couple. Examples of couple goals include:
buying a home together

renovating your home

buying an investment property

travelling or moving overseas.
Step three: create an action plan
With a better grip on your financial pain points and the goals you both want to achieve, it will be easier to start making practical plans.
Just like working with wedding planning list, setting out a clear timeline can help you visualise your goals, and importantly, make sure you're staying realistic about how and when you'll achieve them.
It could be worth talking to us. We can help you set up the timelines and look at ways of boosting your goals.
Keeping motivated is important, but this often takes incentive. You could set up a separate bank account, that has good interest rates and bonuses. You might also want to consider a term deposit. These savings products offer fixed, competitive interest rates and you can choose a term to suit your needs.
You may also consider whether you want a joint account when opening a new savings account as a couple.
When you hit your milestones, there's no harm in rewarding yourself. A nice dinner or weekend away can remind you that your couple goals are worth achieving.
Using an online budget planner will help you find out where you can save money, as well as how much. MoneySmart's savings goals calculator is also a great tool to keep you on track.
Step four: get things moving
You may have already opened up a savings account, but have you thought about applying for a personal loan?
With the right repayment plan in place, personal loans can help you achieve those bigger financial goals, such as paying for the costs of starting a family, moving overseas, or even paying off the engagement ring.
If you're looking at property instead, it's best to start the conversation with your lender soon, so you can figure out how much you can afford and where you want to live.
When you apply for a home loan, you'll want to be prepared. Banks and lenders take into consideration a lot of factors before they decide to approve applications. But the more organised you are, the easier it will be to get things moving.
For more budgeting tips, call us today.
Source: NAB
Reproduced with permission of National Australia Bank ('NAB'). This article was originally published at https://business.nab.com.au/ <insert direct link>
National Australia Bank Limited. ABN 12 004 044 937 AFSL and Australian Credit Licence 230686. The information contained in this article is intended to be of a general nature only. Any advice contained in this article has been prepared without taking into account your objectives, financial situation or needs. Before acting on any advice on this website, NAB recommends that you consider whether it is appropriate for your circumstances.
© 2023 National Australia Bank Limited ("NAB"). All rights reserved.
Important:
Any information provided by the author detailed above is separate and external to our business and our Licensee. Neither our business nor our Licensee takes any responsibility for any action or any service provided by the author. Any links have been provided with permission for information purposes only and will take you to external websites, which are not connected to our company in any way. Note: Our company does not endorse and is not responsible for the accuracy of the contents/information contained within the linked site(s) accessible from this page.