Why go through the worry (and expense) of moving when you can turn your current place into your dream home? While renovations aren't always stress-free (or cheap) there are some straightforward ways to finance your property's facelift so it suits your post-pandemic lifestyle.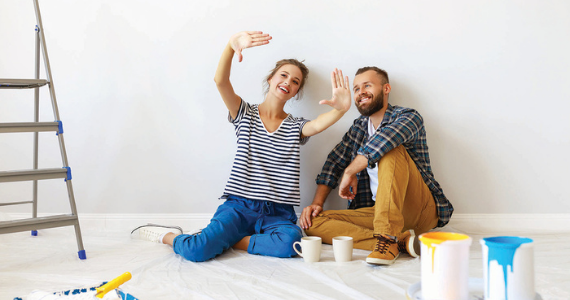 The type of renovation you want and the budget you'll need will ultimately dictate the type of loan required so it pays to plan ahead. If you choose the wrong loan, you could be left with a skip load of unexpected debt.
Tradie comparison site hipages crunched the numbers in 2021 to reveal the average cost of renovating a home. Today, significant home extensions and renovations in Australia start at about $100,000 and can cost up to $300,000 for a traditional family home.
Hipages also drilled down to discover what the standard room by room breakdown would be. A kitchen typically costs between $10,000 and $45,000 to renovate – however, a Masterchef-worthy space could be as much as $70,000. A bathroom redo could clean you out between $10,000 to $35,000, living rooms tend to be cheaper at between $10,000 and $15,000 while a deck or backyard blitz could be about $2,000 to $10,000.
So, once you have the ballpark budget, then you can decide just how you might finance your home improvement.
Refinance your home
Renovation time just might be the perfect opportunity to review your home loan and see if it still works for you. Refinancing to renovate is basically you, as the homeowner, obtaining extra cash to fund your renovations and you don't have to stay with the same lender. Changing lenders could provide a better rate and additional product features, but you'll have to pay for the costs of refinancing. Negotiating with your current lender and extending your loan with them may allow you to avoid such costs. Ultimately, if you renovate wisely then you will be increasing the value of your home and the long term benefits should outweigh any upfront loan costs.  
Redraw from your mortgage
If you've been making additional payments on your home loan over time then redrawing some of the extra money could help fund your renovation. You'll only be able to use the additional amount you've added so you'll need to ensure it will be enough before redrawing. Just check whether your home loan has a redraw facility and verify whether your lender charges for such transactions.
Top up your mortgage
When you top up your home loan, you're basically increasing your mortgage amount so you can borrow extra money against your home. If you have plenty of equity in your home and the ability to make extra repayments, then your lender may increase your existing home loan limit so you can pay for your home renovations. Remember, however, that topping up your home loan means taking on more debt.  
Take out a construction loan
This option will allow you to access larger amounts of money for significant structural work, with the understanding that your property will be worth more once renovations are complete. In order to apply for a construction loan, however, you'll need council approval and a fixed price building contract from a registered builder. The upside to a construction loan is that the interest is calculated on the outstanding amount, not the maximum amount borrowed. As a result, you have more money in your renovation kitty, but you'll only pay interest on the money you choose to spend. It is also worth noting that construction loans usually come with slightly higher interest rates than a typical home loan. 
Home equity loan (aka a line of credit loan) 
Put simply, equity is the dollar value amount of your home that you own. Lenders will let you use that equity to fund a renovation through a home equity loan. Homeowners can generally call on up to 80 per cent of their loan-to-value ratio (LVR). To calculate just how much you might be able to dip into, subtract your current loan balance from your property's value and then multiply by that by 80 per cent. This kind of loan will often charge a lending establishment fee and possibly a monthly loan account fee, so do your homework before choosing a loan to suit you.  
Getting ready before renovating
Have a valuer review how much equity you have in your property so you can then budget your renovations

Research the values of properties in your neighbourhood. There's no point undertaking a pricey renovation of your humble home if it means you've overcapitalised and might not be able to recoup costs when it comes time to sell. 

Be aware that borrowing more than 80 per cent of your home's value will require you to pay Lender's Mortgage Insurance. 

Plan your renovations thoroughly before going to a lender because changing your mind halfway through a project could lead to budget blowouts. 
When weighing up your finance options, consider all the pros and cons associated with each option and get in touch with us on 07 55 809 489 to discuss what would work best for you.
5 tips that could help you save on a renovation
Organise a working bee: get your friends and family together to help with painting, installing shelving and sprucing up the garden and thank them with dinner and drinks.

Choose the right time of the year: Just like travel, renovations and odd jobs can be more cost effective in low season. For example, your air conditioning could be installed during winter.

Check out newly built / renovated homes: While high end architects generally come with a price tag to match, you can go to inspections for inspiration and concepts to recreate in your own home.

Reuse materials: Cabinetry and doors can be given a cost-effective facelift with a paint, new handles or new cabinet doors while keeping the existing cabinet body in place.

Update with new furniture: Sometimes an update of your current furniture can give you that brand new feeling you're looking for. Keep an eye out for used display home furniture that is both on trend and sold at heavily discounted prices.