If your New Year goals include buying your first home, even though you're finding it impossible to save for that ever-increasing deposit, you're not alone. Many people ask us if they can get a home loan with zero or a very small deposit. The answer is a qualified 'yes'. As always, it depends on your circumstances. Let's take a look at some of the options you may have.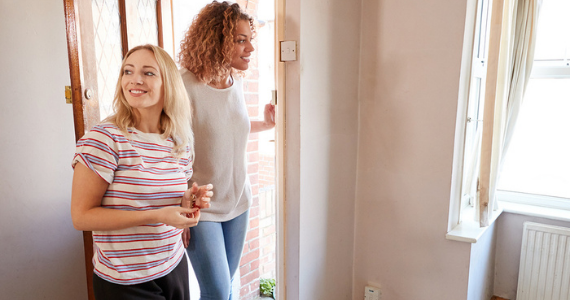 Some no deposit options
A guarantor home loan is the most common 'no deposit' home loan. This is when a parent or close relative offers their home as the guarantee for your loan. It's a very serious commitment because if you fail to meet your repayments, the lender can take the home as payment.
A guarantor home loan may mean you need to save little to no deposit, making it faster for you to buy your first home. Your chances of approval can also increase and you can avoid Lender's Mortgage Insurance too.
When borrowing 100% of your loan, your regular mortgage repayments will be higher so it's important to ensure you can afford the ongoing repayments. You may also need savings to cover the fees and taxes that come with a mortgage application and buying a property. A few lenders will have 105% loans that cover these costs.
Different lenders can have different terms and conditions, so it's important to make sure you and your guarantor understand what these are before committing to anything. We can help explain the terms and conditions to both you and your guarantor and find suitable lenders.
There are some smaller or specialist lenders who offer 100% home loans without a guarantor. However, they usually have tight restrictions on the annual income needed to qualify and their interest rates tend to be higher so we usually view them as a last resort.
Low deposit loans
You increase your lender options if you have a deposit, even a small one of around 5%. Some people use gifts or an inheritance to boost their deposit savings while others consider dipping into their superannuation to do it.
While many lenders accept a deposit of at least 5%, they typically charge LMI on loans with deposits smaller than 20%. This can add a sizable chunk to the cost of your loan or reduce the amount you can spend on buying a property. Different lenders have different rules and LMI rates so it can be confusing.
Government support to help you into your home
Lender's Mortgage Insurance (LMI) rates vary depending on the lender and the amount you borrow. Fortunately there are some ways to reduce or avoid what you have to pay. A parental guarantor who covers your deposit means you don't have to pay LMI. Buyers using the First Home Loan Deposit Scheme also avoid it. You may also be able to add the LMI to your mortgage amount. The best thing to do is get in touch sooner rather than later. We can work out the types of loans and grants you may be eligible for and the fees, including LMI, you will need to budget for.
If you're a first home buyer, you may be eligible for a First Home Owner's Grant. You can use this as a deposit and to pay for fees and taxes like stamp duty. These grants can change from year to year, so it's a good idea to check in with us for the latest version and any changes that are coming up.
First home buyers may be able to buy a house with a 5% deposit and avoid paying LMI with the Government's First Home Loan Deposit Scheme. This is where the government provides the lender with a guarantee on up to 15% of the loan so no LMI is needed.
You can see that there is a variety of ways to open the door to buying your first home. Getting a mortgage with no or a small deposit can be done, especially with the government schemes to give you a helping hand. However as offers and conditions frequently change, it's a good idea to keep in touch about what will be available. We can let you know the next round of application dates and help you apply for grants as well as your mortgage. 
Contact us on 07 55 809 489 if you'd like to discuss this further.