Creating good saving habits takes practice and willpower – especially when there are so many ways to spend your money. But these strategies can help you (or your kids) become a successful saver and reach your goals sooner.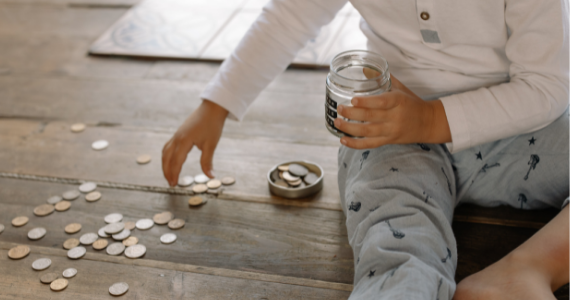 Set up your savings plan in five simple steps
1. Look at what's coming in, and what's going out
To set a realistic budget, first, figure out how much money you have coming in. Then take a close look at how much you're spending – right down to the smallest purchase. This will help you decide how much you can afford to put away each month. Check out Budgeting 101 and Budgeting 102 for more helpful tips on how to start a budget and stick to it.
2. Have a goal in mind
What are you saving for? Maybe it's a short-term goal, like a holiday. Or perhaps you're saving for something significant, like your first home. Regardless of how big or small your dream purchase is, having a goal in mind will make it easier to stick to your savings plan.
Check out our savings calculator to see how soon you could reach your savings goal.
3. Help to plan and track
No matter what your goal is, there are budgeting and savings tools to help. Set up a savings plan and track your progress. If you don't have internet banking, a budget planner can still get you started.
4. Choose a savings account with bonus interest
A savings account usually offers a higher interest rate than an everyday account. When selecting a savings account, check to see if it offers bonus interest. If it does, try not to make any withdrawals, as the bonus may not be paid out if you do. You can learn more about how bonus interest works by reading our tips on successful saving.
Alternatively, you might also want to consider exploring a term deposit as an option to reach your savings goal.
5. Set up a direct credit
Setting up a direct credit from your salary to your savings account each payday can be a big help. It will mean some of your money will be 'out of sight, out of mind' so that it will be easier for you to save. You can use internet banking to set up a weekly, fortnightly or monthly direct credit. Simply choose a day or date you want the money transferred so that it lines up with your payday. Remember to check your balances regularly to make sure that there are enough funds to transfer your direct credit.
How to save money: a beginner's guide
New to saving? Here are some simple saving tips to help you reach your goal.
Save up those lump sums
Treat any unexpected windfalls or lump sums – such as work bonuses, tax returns or cash gifts – like forced savings, and put them in your pot immediately. They can really add up in the long run.
Think before you buy
'Mindful consumption' is a good habit to get into. Not only will it help you save in the short term, it will help you budget for larger financial responsibilities down the road too. Avoiding temptation can be tricky, however. The next time you're tempted to make an impulse purchase, walk away and give yourself time to think it over, even if just for an hour. Chances are you'll realise you really don't need it after all.
Sell unwanted goods
Cleaning out your cupboards and getting rid of things you don't use doesn't just free up space, it can lead to some extra savings too. Try selling your unwanted items on eBay, Gumtree, or at a good-old fashioned garage sale. There's a nationwide garage sale trail every October, which is ideal for first-time sellers.
Cut back on those little luxuries
More often than not it's the smaller, everyday purchases that start eating into your budget. Do you buy your lunch and coffees every day? Make your own and save as much as $100 a week. Swap takeaways for homemade dinners and lunches. And instead of going out for dinner at the weekends, why not take turns with friends to host a casual dinner at home, or have a movie or games night?
Even the savings from simple changes – like taking public transport or car-pooling to save on petrol, or swapping your magazine subscription for an online one instead – can really add up. Remember, the short-term pain of giving up what you love will be worth it when you've saved for your first home deposit or that overseas trip.
Shop around
Doing a little research on price comparison websites and tools can help save you money on both everyday purchases and big spends. Why not:
compare shopping on sites like MyShopping, Shopbot and GetPrice

compare insurance and other contracts online to find the best deal

compare the cost of your gym membership with group personal training sessions.
Ask your family for advice
Your parents and grandparents had to start saving at some stage too. They might've had to be thrifty to save up for their home or raise a family. So why not learn from their experiences? They could have some great cost-cutting tips you hadn't even thought of. You can also read plenty more successful saving tips to help with your savings goals. If you're thinking about getting your first bank account and not sure where to start,  you can find out more at our youth banking page.
Don't kick your savings habit
Being a good budgeter and saver has plenty of advantages well beyond any short-term financial goals you might reach to begin with.
It can be the difference between keeping your head above water during difficult financial times and being in financial hardship. It's also a wonderful habit to teach your kids, so the next generation can have the same great opportunities you've had.
Source: NAB 
Reproduced with permission of National Australia Bank ('NAB'). This article was original published at https://www.nab.com.au/personal/life-moments/manage-money/budget-saving/simple-saving-habits
National Australia Bank Limited. ABN 12 004 044 937 AFSL and Australian Credit Licence 230686. The information contained in this article is intended to be of a general nature only. Any advice contained in this article has been prepared without taking into account your objectives, financial situation or needs. Before acting on any advice on this website, NAB recommends that you consider whether it is appropriate for your circumstances.
© 2021 National Australia Bank Limited ("NAB"). All rights reserved.
Important:
Any information provided by the author detailed above is separate and external to our business and our Licensee. Neither our business nor our Licensee takes any responsibility for any action or any service provided by the author. Any links have been provided with permission for information purposes only and will take you to external websites, which are not connected to our company in any way. Note: Our company does not endorse and is not responsible for the accuracy of the contents/information contained within the linked site(s) accessible from this page.