Everyone loves a bargain, but as cost-of-living increases continue to put pressure on budgets, tracking down a freebie or two can also take some pressure off.
Getting things for free that you would otherwise have had to fork out for, also means you can save while still having some room to splash some cash around for the fun stuff.
Aside from the obvious cost savings of a freebie, it's a clever way to test things out before you've committed to buying something that you may not want or need in the long run. It's awful to spend money on something, only to find out that you've wasted your hard-earned cash. Not to mention the environmental benefits of using goods that might otherwise be going into landfill.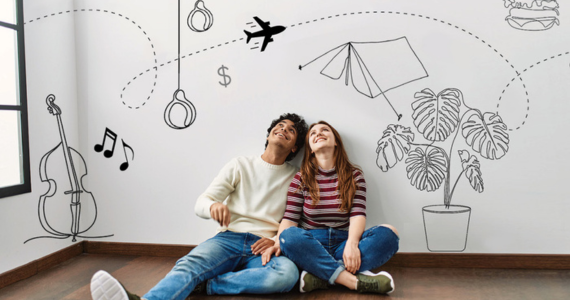 Score a freebie from the kindness of others
There are loads of 'buy nothing' groups and sites such as Nextdoor or Freecycle that have sprung up to give away things that people don't want any more including furniture, appliances, moving boxes and plants.
'Buy nothing' groups also sometimes organise clothing swaps. The clothes you don't wear any more might be just what someone else is looking for. Keep your eye out for any in your area or even organise your own with a group of friends.
If you just need an item for a short period of time it might make sense to borrow it. Online libraries make it easy to exchange goods on a temporary basis at no cost. It's a great choice if you just need something for a short space of time – like tools for a project or a tent to take off camping for the weekend. A couple of sites to check out are: The Sydney Library of Things and The Sharing Shed in Melbourne.
Maximising your rewards
Even if you are doing your best to not spend, there are times when you can't avoid pulling out the credit card. However, your credit card can give you access to a host of freebies like hotel stays, flights, gift cards and appliances via rewards programs.
Just be conscious that finding the right credit card means considering interest and fees. No rewards program is worth paying a lot of interest or being stuck with expensive fees. And not all rewards programs are created equal, some are more generous than others so be sure to read the fine print.
Using your credit card for as much as possible of your eligible spending will help maximise the points you can earn, but just make sure you can manage the repayments on the card, so you are not incurring late fees.
You could also look at rewards programs with your favourite businesses. Many shops and restaurants offer special perks for members' birthdays or for regular customers, offering freebies such as food, shipping, gift cards, merchandise and movie tickets.
Of course, there are other ways to score freebies from businesses, but they usually want something in return. 
The gift of giving
Many businesses offer discounts, vouchers and free products or services in exchange for supplying reviews on sites like The Champagne Mile. As well as the attraction of free stuff there is also a feel-good factor that you are helping the businesses you are reviewing.
It's also common for businesses to offer free trials to introduce you to their company or products, and this can be a fantastic way to try something for free for a brief period. Just be aware that you'll need to give them your credit card to access these so it's important to keep track of the cancellation date and cancel at the end of the trial to avoid incurring costs. Be careful though – scammers often dangle an enticing freebie to get you to give them your credit card details so verify any offer to make sure you are not being swindled.
Once you start seeking out freebies you'll find a lot more – and you won't just be getting free stuff, you'll be freeing up savings for the important, big-ticket items.