Australia's aged care system is incredibly complex, and making the wrong decisions can have a high cost, both financially and emotionally. Being aware of the common traps to avoid can help your family save time, money and stress.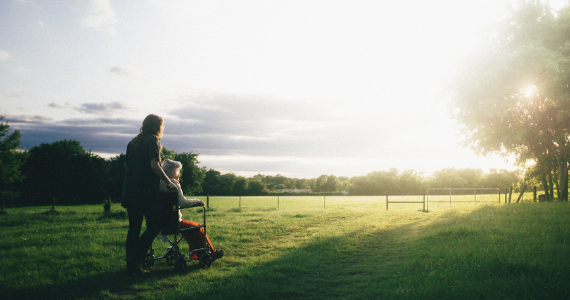 Mistake 1: Making aged care decisions in a crisis
Sadly, many aged care decisions are made in hospital hallways and car parks after some catastrophe. This results in making rushed decisions that can end up seeing your loved one ripped off and short-changed by the system.
That's why it's so crucial to get the whole family involved as early as possible to make informed decisions that get the best outcomes for your loved ones.
We recommend that the best time to start these meaningful conversations is about the same time decisions are being made about retirement. This provides an opportunity to structure assets correctly to give you maximum support for aged care needs down the track. It is also a good time to get an Advanced Care Plan/Directive completed.
The next key time to open up the conversation is when care needs start to change, or maybe there have been some minor health events, a fall, a change or worsening of a medical condition.
The great thing about having a proactive conversation at this point is that the family can understand their expected roles and prioritise what is important.
Mistake 2: Getting the wrong assessment from the 'My Aged Care' call
When it comes to accessing government-funded aged care services, you must first contact My Aged Care to be assessed.
Either a RAS (Regional Assessment Service) or ACAT (Aged Care Assessment Team) will be triggered based on the information provided in the My Aged Care call. Getting the wrong assessment can lead to lengthy delays in getting the right care.
When it comes to the My Aged Care call, we see a common problem that can create significant issues down the track. Often when asked how one is going at home, the common response is to downplay any trouble; "I'm doing well", " I can do x,y and z", even if that is not necessarily true.
This will generally mean that a RAS will be triggered, and that means your loved one won't get access to the needed home care package services.
Mistake 3: Missing out on in-home aged care services
There is a diverse range of services available to keep people at home longer. However, it is not a particularly equitable system, and what is available will depend to an extent on where you live and what resources you have.
Services to keep people at home longer include:
Government-funded aged care services:
Home Care Packages (HCPs)

Commonwealth Home Support Program (CHSP).

Short Term Restorative Care (STRC)

Transition Care programs
State-based health services
These services are usually accessed by a referral from a doctor or following a hospital admission:
Hospital in the home

Community nursing

Wound care services
Private services
There is an increasing number of platforms now available to connect carers directly with those requiring care and ensures all the compliance and safety checks are completed, so you have confidence that you are not letting random people into your parents' home.
Mistake 4: Entering a granny flat arrangement without a formal agreement
It's becoming increasingly common for older Australians to enter into arrangements to live with their family, helping defer entry to residential aged care for as long as possible.
Granny flats can include more than the typically known and traditional separate building on a piece of land.
Special rules apply for granny flats It can affect eligibility or rate of payment for the Age Pension. It is recommended that a formal written agreement is drawn up that clearly sets out the terms of the granny flat interest.
Mistake 5: Selling the family home without seeking advice
When moving into a residential aged care facility, assets and income will be assessed to determine the fees. The outcome of this assessment will be whether someone is a fully-supported or partially-supported resident or a full market price payer.
Fully supported residents are not expected to pay for their room, as the Federal Government covers this cost on their behalf. Partially supported residents or a full market price paying residents are expected to pay for their room or make a contribution towards it. 
Your parent or loved one does not have to sell their home to pay for residential aged care. The choice is up to them.
Sometimes, the decision is purely financial, such as renting out the home for income or holding onto the home as a legacy to leave to the family. There are also emotional factors, such as leaving the long-time family home, which may not be that easy to do.
The choice about the family home may impact the cost of care and the amount and eligibility for the age pension.
It is essential to make sure, whatever the decision, that there is enough cash flow to pay aged care fees and meet any other living expenses.
Seeking independent guidance on what options are available to assist in making a good decision can be beneficial from a time, money-saving and stress level perspective.
When it comes to aged care, preparation is the key to avoid being short-changed by the system. Empower yourself with as much information as possible to get the care your parents are entitled to.
If you'd like to find out more about Aged Care, contact us on 07 55 809 489.
Reproduced with permission of Family Aged Care Advocates
Download 10 aged care traps to avoid for your ageing parents
No specific person's personal objectives, needs or financial situations were taken into consideration when creating the content for this article. Family Aged Care Advocates Pty Ltd (ABN 77 642 454 484) are aged care specialists. You should seek qualified financial planning, taxation and legal advice before making any decisions that are unique to your circumstances. This article was prepared in good faith and we accept no liability for any errors or omissions.
Important:
Any information provided by the author detailed above is separate and external to our business and our Licensee. Neither our business nor our Licensee takes any responsibility for any action or any service provided by the author. Any links have been provided with permission for information purposes only and will take you to external websites, which are not connected to our company in any way. Note: Our company does not endorse and is not responsible for the accuracy of the contents/information contained within the linked site(s) accessible from this page.